Communications policy and administration
The Telecommunications Association of Thailand is to submit proposals by 31 August on the strategies and goals the government needs to transform Thailand into a digital hub in ASEAN. Keep reading ...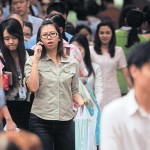 A single flat rate for international mobile roaming between Thailand and Cambodia is planned for early next year after an agreement was signed by telecom regulators from both countries. The pact between the National Broadcasting and Telecommunications Commission and the Telecommunication Regulator of Cambodia is aimed ...
Local government officials are turning to social media in an effort to share information on the flooding situation in upper Myanmar – and head off rumours of impending dam overflows and other catastrophes. The government has traditionally used state media, both print and broadcast, to share ...
The Lao National Assembly (NA) passed a draft law on the prevention of cybercrime after it was raised for debate at the ongoing ordinary session of the parliament. The approved draft will be revised in accordance with recommendations made by the law makers during the debate. Widespread ...