The United States and United Nations has criticised Vietnam's detention of a prominent climate activist, saying such actions were part of a broader trend towards curbing free speech. Hoang Thi Minh Hong, the founder of now-defunct NGO CHANGE, which aimed to tackle some of the country's most ...
 NEWS AGENCIES

Despite being forced from her home in Cambodia without compensation and giving birth while imprisoned for speaking out, Hoy Mai believes she will finally receive justice after more than a decade when she appears in a civil court in Thailand. Mai is expected to testify as ...
 JACK BROOK

Cambodian authorities should end the politically motivated investigations of four environmental activists looking into illegal logging in Kratie province, Human Rights Watch said today, the International Day of Forests. The authorities should investigate a Taiwanese-Cambodian company whose employees allegedly detained the activists, including the prominent environmentalist Ouch ...
Twenty-three law enforcement officers from Australia, Asia and Europe are in Hà Nội for the next three weeks for the 44th Asia Region Law Enforcement Management Programme (ARLEMP). The officers will study management, communication and cultural topics, and develop their skills in investigating transnational cybercrime, ...
 VNS Reporter

Prime Minister Nguyễn Xuân Phúc led a Vietnamese delegation to the 9th Mekong-Japan Summit and the 9th ASEAN-UN Summit that took place in Manila, the Philippines, on Monday. The 9th Mekong-Japan Summit drew leaders of Cambodia, Laos, Myanmar, Thailand, Việt Nam and Japan. Keep reading ...
 VNS Reporter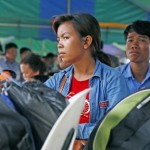 A group of Cambodians in Thailand have formed an association to provide legal aid to the country's Cambodian factory workers, saying the workers risk abuse due to their lack of proper documentation and knowledge of labour laws. Keep reading ...