Disabled persons assistance NGOs
She lay and cried in the hospital. The nurses did too. Tin Mya had already had two major amputation operations performed on her toes and foot, which had turned black. And she was about to lose most of her lower leg. The cause of her pain ...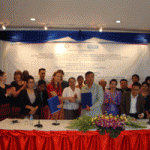 International development partners have agreed to continue supporting disabled people's organisations in Laos through capacity building for the authorities and organisational capacity, promoting equity and participation among disabled people. The signing of Memorandums of Understanding on the implementation of two disability projects took place on 30 ...