On 13 November, Buddhist leaders from Vietnam, Laos, and Cambodia met in Vientiane, the capital of Laos,to "strengthen co-operation between the three countries' Buddhist organizations and promote and develop Lao Buddhism [both] in the region and internationally." This meeting, attended by over 500 monastics, was called ...
A recent conference at Thammasat University in Bangkok brought together Indian and Southeast Asian scholars to discuss re-building cultural links along two major rivers in Asia – the Ganges and the Mekong – that in ancient times provided transport links to build great civilizations influenced ...
 Kalinga Seneviratne

People nationwide are eagerly anticipating the Lao New Year (Pi Mai Lao) festival (Year of the Rooster) next week, with the official holiday taking place from April 14-16. Vientiane is preparing an exciting programme of activities for locals and visitors alike, including a Miss Vientiane ...
The Ministry of Education has responded to criticisms on social media that new civic education textbooks have included the four great religions – Buddhism, Islam, Christianity and Hinduism – by denying it is responsible for the curriculum. "The texts books are not from our departments. ...
Just a few days into her fifth visit and the UN special rapporteur on human rights in Myanmar has already encountered a few bumps in the road, with the government blocking her from going to Laiza and Hpakant, in Kachin State. Yanghee Lee and her ...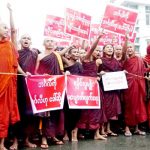 A day after thousands of Buddhist nationalists staged protests across Rakhine State, the regional government issued a statement saying it would call the state's Buddhist majority "Rakhine ethnics", as controversy over terminology continues to simmer. The announcement yesterday said the state government would drop the phrase ...