Like many other countries in the region, Việt Nam faces the question of how to care for its ageing citizens, most essentially when it comes to providing health care. ​The issue was the focus of the workshop on "Health security of older persons: a survey ...
The Health Service Support Department plans to set up more than 1,000 elderly care centres as part of preparations for the nation's ageing society. Department spokesman Pattarapon Jungsomjatepaisal said on December 18 the agency is working on the project to establish the centres across the country. ...
The Ministry of Social Welfare, Relief and Resettlement hosted an event this week in Yangon aimed at drafting a national policy for a growing contingent of those over 60 years old. One in every 11 Myanmar citizens is elderly, the ministry's deputy director general Daw ...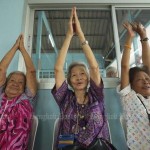 As Thailand becomes an ageing society, one of the most critical issues is how frail elderly folk can be taken care of when their children have to go out to make a living. Some have to ask their relatives to take care of their ageing family ...