SDG 3 Good health and well-being
Leading global organisations and NGOs have come together to urge Cambodia to focus on children's rights to healthy diets as rates of malnutrition are in danger of rising amid the COVID-19 (C-19) pandemic. The call was made in a joint statement from Unicef, the World Food ...
 Som Kanika

Closing live animal markets that trade in wildlife, strengthening efforts to combat trafficking of wild animals, and working to change dangerous wildlife consumption behaviours are all needed, said the leading wildlife conservation group, WCS. With the outbreak of the Wuhan Coronavirus, the Wildlife Conservation Society (WCS) ...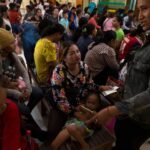 The global toll of dengue fever is becoming well known, with rising temperatures contributing to severe outbreaks that made 2019 the worst year on record for the disease. In 1970 only nine countries faced severe dengue outbreaks. But the disease, which is spread by mosquitoes that ...
 Photographer Luke Duggleby and journalist Laure Siegel

Social Development and Human Security Juti Krairiksh said he would speed up the drafting of a new master plan for elderly care and submit it for the Cabinet's approval within a month. Juti was speaking to reporters on Tuesday while accompanying a team of doctors from ...
U.S. Secretary of Agriculture Sonny Perdue on Thursday criticized Vietnam's move to ban imports of glyphosate-based herbicides, saying the decision would have "devastating impacts on global agricultural production." Vietnam's government said in a statement that the toxic level of herbicides containing glyphosate had long been of ...
 Tom Polansek, Khanh Vu