Hundreds of indigenous Karen people in Thailand face evictions from a national park that authorities wish to turn into a World Heritage Site, joining millions in a similarly precarious situation as authorities worldwide push tough conservation laws. The Kaeng Krachan is Thailand's biggest national park, sprawled ...
Thailand's Narcotics Suppression Bureau (NSB) is willing to let its Malaysian counterpart interrogate suspected syndicate members caught in this country while trying to smuggle a large amount of drugs into Malaysia. Keep reading ...
 Bernama Reporter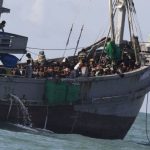 Beginning this week, the Myanmar government will be beginning the process of taking home some 2,000 of its people who have been detained for months in Malaysia, Myanmar Times reported on August 10. "We have plans go through this repatriation process more than 10 times, chartering flights ...