Deforestation of mangroves has increased in Arakan State as a result of power cuts, according to local mangrove conservationists. Since late last year, Myanmar has experienced frequent blackouts, which worsened in February and continued into the monsoon season despite the fact that hydropower is the country's ...
 Development Media Group

A Malaysian aid ship arrived in Bangladesh on February 13 carrying aid for hundreds of thousands of Rohingya Muslims who have fled from Arakan State, many citing abuses by the Myanmar's security forces. A representative of the mission on the ship said it would unload ...
On a recent afternoon, the beach at Jatetaw village was bustling with fishermen hauling their boats a shore and off loading the catch. Local women carried the fish off in bamboo baskets and laid them out to dry in the sun, after which they would ...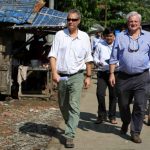 A delegation from the United Nations, led by the under-secretary general of the UN's Office for the Coordination of Humanitarian Affairs, visited displaced communities outside of the Arakan State capital of Sittwe on October 14. Reporters from The Irrawaddy accompanied Stephen O'Brien, who also serves as ...