The final days of April saw further unbearable temperatures recorded in India and Pakistan. Temperatures peaked at 49C in Jacobabad, Pakistan on 30 April, with a high of 47.2C observed in Banda, India. The Indian Meteorological Department confirmed that average temperatures in April were the highest ...
 Matt Andrews (Metdesk)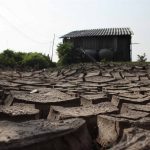 The Ministry of Natural Resources and Environment has asked 38 cities and provinces nationwide to promptly revise the operation of reservoirs to ensure water sources for low-lying areas in this dry season, especially in vulnerable areas such as the central region, the Central Highlands and ...