Dugongs in Thailand's waters face extinction unless their habitat and food sources are protected, according to a recent study. One of the most gentle marine mammals, dugongs are facing a serious threat as recent research by the Marine and Coastal Resources Department showed that only ...
A strategic Environment Assessment was proposed by academics to serve as a sustainable solution for conflicts over major development projects such as the Krabi coal-fired power plant. A team of academics and public policy campaigners discussed the current problems of Environmental Impact Assessment and Environmental ...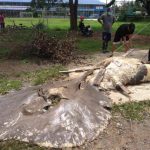 Dr Nantarika Chansue, head of the Veterinary Medical Aquatic Animal Research Centre at Chulalongkorn University, said on October 12 it was too late to do anything about the recent deaths of giant freshwater stingrays but authorities could work to restore the water quality in the ...

Contact us
Thank you for taking the time to get in contact!