Cambodia's Mekong River from Stung Treng to Kratie and Prey Veng is believed to be the healthiest habitat of the endangered giant freshwater stingray. The notice was shared recently with AKP by Dr Zeb Hogan, an American biologist and a World Wildlife Fund (WWF) fellow who ...
Populations of the great beasts that once dominated the world's rivers and lakes have crashed in the last 50 years, according to the first comprehensive study. Some freshwater megafauna have already been declared extinct, such as the Yangtze dolphin, and many more are now on the ...
 Damian Carrington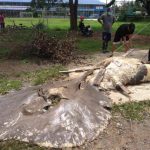 Dr Nantarika Chansue, head of the Veterinary Medical Aquatic Animal Research Centre at Chulalongkorn University, said on October 12 it was too late to do anything about the recent deaths of giant freshwater stingrays but authorities could work to restore the water quality in the ...

Contact us
Thank you for taking the time to get in contact!