A local community in Oddar Meanchey province is doing an online "one-dollar" campaign to raise funds for forest protection after facing personnel shortfalls for their patrolling, leaving much of the Sorng Rukhavorn Wildlife Sanctuary's more than 30,000ha unprotected. The Sorng Rukhavorn forest community said forestry crimes ...
 Long Kimmarita

Similar to other ethnic groups, people of Hmong at Ban Pang Kob living in the buffer zone of Doi Phu Kha National Park and Khun Nan National Park are entirely dependent on the forests. Their livelihoods and food security from surrounding forests are now facing ...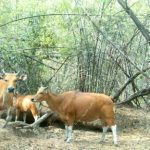 Cambodia's Ministry of Environment gathered a network of government and civil society representatives on November 8 to begin planning the creation of a biodiversity conservation corridor that would make it easier for wildlife to thrive. Biodiversity corridors connect isolated conservation areas with strips of vegetation to ...

Contact us
Thank you for taking the time to get in contact!