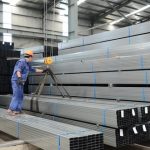 Steelmaker Hòa Phát Group (HPG) plans to issue over 250 million shares to raise capital for investment in the second phase of Hoà Phát Dung Quất iron and steel production complex. HPG will sell those shares at a price of VNĐ20,000 (US$0.8) per share, expecting ...
Hanoi, Ho Chi Minh City, Danang and 60 other cities and provinces will turn off the light from 8.30 PM to 9.30 PM on March 25, in sync with foreign countries. The Ministry of Industry and Trade has launched the Earth Hour campaign 2017 themed "Light ...
Vietnam has unveiled a new plan to transform the country into a regional logistics hub by 2025. The new plan draws attention to the importance of logistics in Vietnam's positioning as an international trade hub Prime Minister Nguyen Xuan Phuc recently sanctioned the action plan to enhance ...

Contact us
Thank you for taking the time to get in contact!