The Chinese government has funded construction of a 22.5 km road along the Mekong River linking Tonpheung district in Bokeo province with Sing district in Luang Namtha province to facilitate transport and boost northern development. A signing ceremony for construction of the US$32.7 million road ...
A super fast railway will connect Myanmar's cities, cutting the journey time from Muse, Shan State, to Yangon to one hour. That was the claim made by China's consul general in a recent meeting in Mandalay. Wang Zongying was discussing China's One Belt One Road project, ...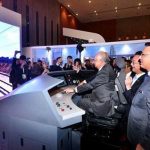 Southeast Asia is ready to open more commercial doors to the Chinese government's Belt and Road program, following a meeting of transport ministers from China and the 10 members of the Association of Southeast Asian Nations. Belt and Road, a trade and infrastructure construction initiative ...

Contact us
Thank you for taking the time to get in contact!