In Laos, the lush forests are alive with the whines of drills that pierce the air. On the Mekong, a giant concrete wall rises slowly above the trees. The Don Sahong dam is a strong symbol, not only for a power-hungry Asia but also for ...
 Pascal Laureyn

Mega First Corporation Bhd has secured loan facilities totalling US$150mil or RM634.87mil to part finance the building of its Don Sahong hydropower project in Laos.It said on Tuesday its unit Mega First Investments (L) Ltd had entered into facility agreements with various financial institutions for club ...
 Joseph Chin

Depending on who you speak to, there are naturally differing perspectives in regard to the future of the Mekong River, as most people living along the river look for a sustainable future through conservation of the existing ecosystem, while governments seek balanced resource usage and benefit-sharing ...
Snaking down the length of the Mekong River the beautifully detailed map looks strikingly like those marking the distribution of unexploded ordnance in Laos. The red dots that pockmark the course of the river, from its origins in the highlands of China to its outlet ...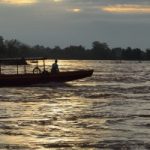 The Mekong River Commission is still reeling from the blowback over its handling of the consultation process around the Don Sahong and Xayaburi dams in Laos, both of which are expected to have severe environmental consequences on those living downstream. Now, with its budget slashed—its funding ...

Contact us
Thank you for taking the time to get in contact!