Mekong Region countries like Cambodia should reconsider their plans to expand hydropower dams and coal plants, as the costs of alternative energy sources, such as solar power, are rapidly falling, a U.S. think-tank said, while improved regional grid connections can also ease growing energy demand.Experts ...
 Nem Sopheakpanha, Seourn Vathana, and Sun Narin

The Asian Development Bank has financially backed Singapore's Sunseap Group's project to build Cambodia's first large-scale solar power project under a long-term agreement with the state-run energy utility Electricite Du Cambodge. ADB's private sector operations department will provide Sunseap Asset (Cambodia) with a debt financing ...
During a visit to the Lao border on January 10, Prime Minister Hun Sen thanked the government of Laos for "selling electricity at a cheap price to Cambodia". Experts, however contend a continued reliance on energy imports means prices will invariably remain high for consumers. ...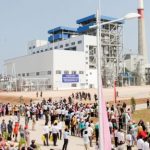 Cambodia's domestic electricity production grew significantly in 2015, helping to reduce the Kingdom's reliance on imported energy, the national electricity regulator said in its newly released annual report. According to the Electricity Authority of Cambodia, the Kingdom's energy generation increased by 46.79 percent in 2015 compared ...