The Labor Ministry spent more than four billion riel on help for garment workers involved in accidents in the first three months of the year, but unions say staff are still struggling to access healthcare. Labor Minister Ith Samheng said the National Social Security Fund ...
Deputy Prime Minister Men Sam An has ordered the Industry Ministry to be stricter in its implementation and monitoring of industry and technical standards to ensure the safety of workers involved. Ms. Sam An, who is also Minister of the National Assembly-Senate Relations and Inspections ...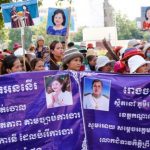 Government officials and union groups on August 23 cast doubts on the findings issued by the industry body for the nation's garment and footwear manufacturers, challenging its claim that mounting investor concerns had forced dozens of local factories out of business and resulted in a sharp ...

Contact us
Thank you for taking the time to get in contact!