The Labor Ministry spent more than four billion riel on help for garment workers involved in accidents in the first three months of the year, but unions say staff are still struggling to access healthcare. Labor Minister Ith Samheng said the National Social Security Fund ...
The National Social Security Fund will pay more to hospitals for health services following a new agreement reached between the fund and participating hospitals yesterday. The money will be paid in a lump sum, with some hospitals receiving as much as 130,000 kip to allocate ...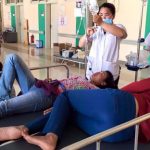 The National Social Security Fund on August 18 said it's gearing up to sign agreements with about 200 provincial referral hospitals and health centres to provide coverage to a wave of recently insured workers in the country. Ouk Samvithyea, executive director of the NSSF, said a workshop ...

Contact us
Thank you for taking the time to get in contact!