After several weeks of silence, the Vietnamese government announced that is working to begin an investigation into allegations of widespread illegal logging in Cambodia directed by Vietnamese companies and provincial government officials. Earlier this month the Environmental Investigation Agency (EIA) released a damning report which ...
A European parliamentarian has submitted a "priority question" to Europe's high representative for foreign affairs, Frederica Mogherini, urging strong action against Cambodia in response to recent threats by Prime Minister Hun Sen to dissolve opposition parties. Legislation proposed on Monday by the ruling Cambodian People's ...
In recent years, communities displaced by sugar plantations have attempted to reclaim their land by targeting the plantations' investors and buyers overseas, but a study published last week in the peer-reviewed Journal of Civil Society suggests such efforts may disappoint. Author Young Sokphea notes that ...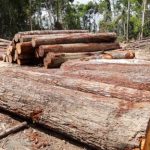 The European Union has begun training Cambodia's Forestry Administration to use satellite imagery to crack down on deforestation. Members of the EU's Joint Research Centre have been meeting with forestry officials since September 26, teaching them how to analyse images captured by the EU's Sentinel-2 satellite ...