An official delegation led by the head of the nation's illegal logging task force found hundreds of felled trees inside protected forest areas in Pursat province on February 14, officials said. National Military Police chief General Sao Sokha, who heads the task force, and more ...
A group of animals, including a family of gibbons, currently living at Takeo province's Phnom Tamao Zoo are set to be transferred to Siem Reap's Banteay Srei district in a bid to boost eco-tourism. The animals will be moved to the Khun Ream rosewood farm ...
Deputy Prime Minister Bin Chhin, the Kingdom's top authority in charge of resolving land disputes, slammed the Ministry of Agriculture over "shameful" irregularities in granting economic land concessions at the Environment Ministry's annual meeting on December 21. During yesterday's meeting, Chhin accused the Ministry of ...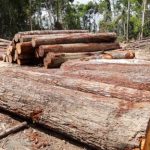 The European Union has begun training Cambodia's Forestry Administration to use satellite imagery to crack down on deforestation. Members of the EU's Joint Research Centre have been meeting with forestry officials since September 26, teaching them how to analyse images captured by the EU's Sentinel-2 satellite ...