Vietnam-focused private equity firm Mekong Capital is looking to build a climate fund worth up to $200 million as early as next year, focusing on investments that will help with the regeneration of forests in the Mekong region. The Ho Chi Minh City-based firm is setting ...
 Yantoultra Ngui

Glaciers in UN World Heritage sites are among those likely to disappear by 2050 as a result of global warming – regardless of efforts to limit the rise in global temperatures, scientists have warned. Researchers fear their loss is likely to have a devastating impact on vital waterways ...
 Holly Chik

The United States and European Union want countries from around the world to join them in slashing methane emissions by 30 percent by 2030. The recent EU-U.S. pledge recognizes that rapid reductions in methane emissions are critical to limiting global temperature rise to within 1.5 ...
 Oliver Frith, Reiner Wassmann, and Bjoern Ole Sander

With 80 percent of the region surrounded by water, ASEAN regularly faces water-related disasters such as floods, cyclones and storms – which are heightened by climate change. Greenhouse gases (GHG) are progressively warming the environment, and melting ice sheets and glaciers are increasing the volume of ...
 Jason Thomas

Limiting global warming to two degrees Celsius will not prevent destructive and deadly climate impacts, as once hoped, dozens of experts concluded in a score of scientific studies released on Monday. Keep reading ...
 VNS Reporter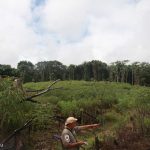 To meet the target of limiting global warming to 2-degrees-Celsius established in the Paris Climate Agreement, it is crucial to curb tropical deforestation and encourage the reforestation of tropical forests that have already been cut down. Not only is tropical deforestation and forest degradation the source ...