In the next round of equitisation, State capital must be sold faster, at higher value, and the enterprises' corporate governance must further improve, Deputy Prime Minister Vương Đình Huệ has said. Huệ was speaking at a meeting on equitisation and the restructuring of State-owned enterprises ...
The forestry sector will protect, develop and sustainably use existing forest areas and land fund for forest development with a view to raising the country's forest coverage to 47.25 percent in 2017. This is one of the focal tasks of the sector during 2017 put ...
Ineffective forest management has exposed shortcomings in the 2004 Law on Forest Protection and Development that need to be addressed through amendments, officials said at a conference on December 15. Participants at the national conference in the capital city said the law defined the forest ...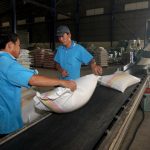 The agricultural sector was urged to exert all-out efforts in the remaining months of the year to realise the sector's gross domestic product growth target of at least 1.2 per cent and increase export value to US$31 billion in 2016. Speaking at a press conference hosted ...