Solutions to help coffee production adapt to climate change was the focus of discussion at a workshop held in the Central Highlands province of Gia Lai on March 31. Looking into causes behind the unsustainable development of coffee at present, participants pointed out that small-scale production ...
A seven-year-old male Bos Gaurus bull, an endangered species listed in Group IB in Việt Nam's Red Book, was killed in a protected area in Chư Mom Ray National Park last Friday. Đào Xuân Thủy, deputy director of the park's management board, said the bull, ...
Local residents are concerned about timber being smuggled on the Đắk Bla River in the Central Highland province of Kon Tum, after authorities failed to stop the illegal activity. Last Tuesday, local media reported that smugglers are using tyres to float timber on the Đắk ...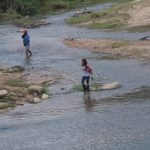 Thuong Kon Tum dam, which is built in the Dak Snghe River watershed, is one of the biggest hydropower projects in the basin of the Se San river. The effect of the dam is still questionable but it raises concerns about environmental impacts as the ...