When the next round of Asian summitry kicks off later this month in Bangkok, one of the key areas that will be in the spotlight within U.S. policy will be the Washington's approach to the Mekong subregion – a shorthand for the area in mainland Southeast ...
 Prashanth Parameswaran

Last week, the countries of the Mekong subregion kicked off another iteration of a key friendship border exchange program in Vietnam. Though the event was just one among many developments within the management of border relations between these countries, its significance nonetheless bears noting within ...
Contributions Vietnam made to the 8th Ayeyawady-Chao Phraya-Mekong Economic Cooperation Strategy Summit (ACMECS 8) and 9th Cambodia-Laos-Myanmar-Vietnam Summit (CLMV 9) once again affirm its sense of responsibility for and activeness in joining regional cooperation frameworks, thus helping promote comprehensive and sustainable development in the Mekong ...
Unquestionably, construction tycoon Premchai Karnasuta is the man of the moment. His name is on everyone's lips, after he and three of his entourage were arrested and charged with poaching in Unesco's World Heritage Thungyai Naresuan wildlife sanctuary on Feb 4. []There are reasons to believe hunting ...
 ANCHALEE KONGRUT

Prime Minister Nguyễn Xuân Phúc yesterday held a meeting with his Lao and Cambodian counterparts, Thongloun Sisoulith and Hun Sen, on the sidelines of the 31st ASEAN Summit in Manila, the Philippines. []The PMs stressed the need to incorporate CLV projects into cooperation programmes in the ...
 VNS Reporter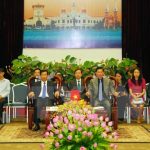 Vietnam has been making practical contributions to turning the Mekong sub-region into a dynamic and prosperous economic area via CLMV and ACMECS cooperation framework, Deputy Prime Minister and Foreign Minister Pham Binh Minh has affirmed. As the 8th Cambodia-Laos-Myanmar-Vietnam Summit, the 7th Ayeyawady-Chao Phraya-Mekong Economic Cooperation ...