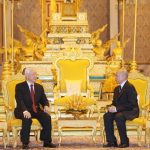 Party General Secretary and President Nguyễn Phú Trọng had talks with Cambodian King Norodom Sihamoni in Phnom Penh yesterday, during his ongoing State visit to Cambodia. Keep reading ...
Laos and Cambodia plan to continue to foster their deep, longstanding and traditional friendship, relations and solidarity. The two countries' leaders made their intentions clear during a two-day state visit to the Kingdom of Cambodia by President Bounnhang Vorachit. President Bounnhang visited Cambodia from February ...
Lao and Cambodian governments are looking toward to steps in furthering bilateral cooperation and further deepening friendly relations following an exchange visits by high-ranking delegations. Lao Minister of Foreign Affairs, Mr. Saleumxay Kommasith and his delegation paid official visited to Cambodia from January 24-25 in ...

Contact us
Thank you for taking the time to get in contact!