Cambodia's five major sugar producers exported just 4 percent of the country's planned refined sugar capacity to the international market last year, equalling only 80,000 tonnes, a sign that government officials said means the sector still has ample room for growth as sugar companies push ...
Cambodia has seen a marked increase in industrialisation over the past five years, with the number of factories nearly doubling during that period and producing a broader range of goods for both export and domestic consumption, according to new unreleased government data. In the yet-unpublished ...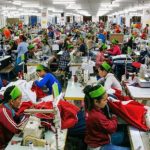 More than 100 new factories were registered during the first nine months of the year, creating over 50,000 jobs, a government spokesman said on November 10. Oum Sotha, spokesman for the Ministry of Industry and Handicraft, said the ministry recorded 116 new factory openings from ...

Contact us
Thank you for taking the time to get in contact!