The National Dengue Control Program, a department under the Health Ministry, remains skeptical in the implementation of a new dengue-prevention method, citing concerns about the program's long-term sustainability.Despite a Malaria Consortium pilot project – which uses guppy fish to eat mosquito larvae to stem the ...
Young people with HIV are facing unique challenges, according to a recent report from Doctors Without Borders Myanmar released ahead of World AIDS Day on December 1. Adolescents with HIV aged 10 to 19 are three times more likely to experience failure with first-line anti-retroviral treatment ...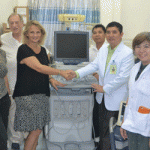 The Swiss-Lao Hospital Project has provided medical equipment worth about US$1 million for Lao hospitals, aiming to improve conditions for new mothers and newborns around the country. Deputy Director General of the Mother and Newborn Hospital, Dr Sivanesay Chanthavongsouk, said this week the equipment would help ...

Contact us
Thank you for taking the time to get in contact!