We didn't expect a junkyard in the jungle, but that's what we found: chainsaws – hundreds of them – piled high, along with old trucks, dozens of battered cars, countless motorbikes and scores of giant, illegally-harvested timbers. It had all been confiscated by rangers working ...
 Quentin Renard, Sovanna Nhem, Chivin Leng, Jeff Silverman, and Donna Lee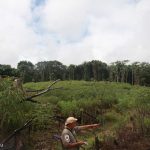 To meet the target of limiting global warming to 2-degrees-Celsius established in the Paris Climate Agreement, it is crucial to curb tropical deforestation and encourage the reforestation of tropical forests that have already been cut down. Not only is tropical deforestation and forest degradation the source ...