Starting in June 2021, hundreds of ethnic Vietnamese families living in floating villages on the Tonle Sap river have been evicted from Phnom Penh and told to relocate upstream and downstream — a move that families say has caused difficulties for their livelihood. Speaking at a press ...
 Va Sopheanut

As hydropower projects continue to be built along the Mekong mainstream, fishing communities living near the Tonle Sap river in Cambodia say their way of life is already changing. Keep reading ...
 Hul Reaksmey

Kampong Chhnang provincial authorities have outlined plans to relocate thousands of families living on the Tonle Sap river in an effort to curb water pollution. Provincial governor Chhour Chan Dern said five floating villages in three different locations along a stretch of the river in his ...
Cambodia has agreed for a China-based firm to invest $100 million in freshwater and seawater aquaculture projects to supply fish for local demand and export. The Ministry of Agriculture, Forestry and Fisheries on February 2 signed an agreement with China Ocean Fishing Holding Limited for a ...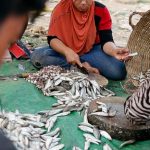 Just weeks ahead of the main fishing season on the Tonle Sap river, which supplies the majority of the fish used in the Kingdom's traditional cooking sauce, prahok, government officials are predicting a better catch this season as water levels have recovered from last year's ...

Contact us
Thank you for taking the time to get in contact!