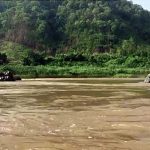 At least 1,000 families from 20-some villages in northwestern Laos' Xayaburi province will be forced to relocate if infrastructure officials move ahead with plans to build a fourth hydropower dam on the Lower Mekong River, a provincial official said Monday. The Pak Lay hydropower project is ...
As part of an ambitious bid to boost its hydropower output and become the 'battery' of Southeast Asia, the landlocked communist state of Laos now has three dam projects underway along the vast stretches of the Mekong river that wind through its rugged mountainous landscape.Keep ...
 Michael Hart

Representatives from Cambodia, Laos, Thailand and Vietnam gathered in Vientiane on Thursday to launch a six-month consultation process on what would be the third mainstream hydropower dam in Laos's Lower Mekong River. Laos first signalled its intention to move ahead with the proposed 912-megawatt Pak ...

Contact us
Thank you for taking the time to get in contact!