Over the past thirty years demand and production of oils crops like oil palm and soybeans has boomed across the tropics thanks to rising incomes, macroeconomic changes and government policies, and substitution effects. This rapid expansion has in some places taken a heavy toll on ...
It's estimated that about 10 percent of global emissions comes from deforestation — meaning we could make considerable progress toward halting climate change simply by keeping what remains of the world's forests standing. Agricultural commodities — especially beef, palm oil, soy, and pulp and paper ...
The Rakhine State commerce minister is hoping around 10,000 tonnes of black gram beans will be exported to India from Sittwe this year, pending completion of the Kaladan Multi-Model Transit Transport Project. The Kaladan project will connect Mizoram in India to Sittwe, the capital of Rakhine ...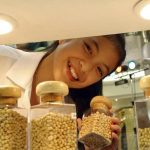 The government on November 24 approved a three-year, tariff-free soybean import plan to ease domestic shortages on the condition that importers promote soybean farming and pay more for domestically grown soybeans. Deputy prime minister Prajin Juntong, who chaired the vegetable oil committee meetings, said importers ...