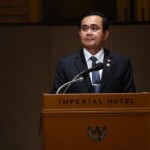 Thailand's Prime Minister General Prayut Chan-o-cha has invited Japanese small and medium sized enterprises to invest more in the Mekong Subregion- by taking advantage of its logistic transport links, with the expectation that the region will be able to take a step forward together. Prayut spoke ...
India's Mesco Gold (Cambodia) presented to the Cambodian Ministry of Mines and Energy that its Phum Syarung underground mine, in the northeastern province of Ratanakiri will start with initial capacity of 500 tons per day with a recovery rate of 85%. Angkor Gold discovered the epithermal gold deposit ...
In response to reports that China has prohibited state-owned companies from bidding on public projects in Vietnam, Transport Minister Dinh La Thang said the ban, if true, will have no effect on Vietnam. Thang, speaking to press on the sidelines of the National Assembly meeting, said that many Vietnamese ...
Foreigners will no longer need a local partner to set up businesses in Myanmar and may be granted a five-year tax holiday from the start of commercial operations, according to the draft of a new investment law obtained by Reuters. Keep reading ...