Thai PM calls for Japanese firms to invest more in Mekong region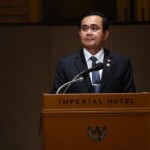 Thailand's Prime Minister General Prayut Chan-o-cha has invited Japanese small and medium sized enterprises to invest more in the Mekong Subregion- by taking advantage of its logistic transport links, with the expectation that the region will be able to take a step forward together.
Prayut spoke at a luncheon at the Imperial Hotel that was attended by the leaders of Cambodia, Laos, Myanmar and Vietnam and more than 1,000 Japanese businesspeople, where the need for more investment in the Mekong highlighted.
The sectors in need of investment include agriculture, processed agricultural products, high-tech industries, recycling and alternative energy.