Community representatives, civil society organisations and opposition members have urged the government for more urgent action to resolve land disputes following the release of annual data showing that all 24 provinces were affected in 2014, with hundreds of cases still unresolved. The call came at the launch ...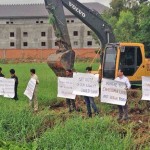 A tense stand-off between staff from a South Korean development firm and representatives of tycoon and ruling party Senator Kok An took place in northern Phnom Penh on 16 September, over what the Korean company says is an attempted land grab. More than 20 Korean and ...
Companies that transfer their land holdings to another firm in violation of government policy will have their concessions stripped from them, the Agriculture Ministry has said. Keep reading ...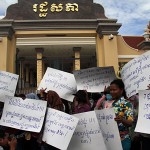 About 200 villagers involved in land disputes in three provinces have protested outside Cambodia's parliament building in Phnom Penh, demanding that lawmakers resolve their cases and threatening not to vote for those who turn down their requests. The villagers from Sihanoukville, Svay Rieng, and Takeo provinces ...