Villagers petition Cambodian lawmakers for help with land dispute cases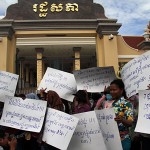 About 200 villagers involved in land disputes in three provinces have protested outside Cambodia's parliament building in Phnom Penh, demanding that lawmakers resolve their cases and threatening not to vote for those who turn down their requests.
The villagers from Sihanoukville, Svay Rieng, and Takeo provinces carried posters with details of the disputes they have had with land concession companies for years without resolution.
The villagers took turns telling lawmakers about their disputes and the negative impact the disagreements have had on their livelihoods.