Special economic concessions
Trà Vinh Province's Management Board of Economic Zones on Tuesday granted an investment registration certificate to two investors to develop the first phase of the Duyên Hải Wind Power Project.Keep reading ...
The National Land Use Policy is in line for redress, after being highlighted by a parliamentary commission charged with targeting legislation for reform. In its current form, the policy only covers farmland – something the Commission for the Assessment of Legal Affairs and Special Issues ...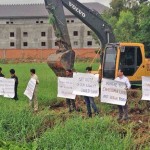 A tense stand-off between staff from a South Korean development firm and representatives of tycoon and ruling party Senator Kok An took place in northern Phnom Penh on 16 September, over what the Korean company says is an attempted land grab. More than 20 Korean and ...
Companies that transfer their land holdings to another firm in violation of government policy will have their concessions stripped from them, the Agriculture Ministry has said. Keep reading ...