The National Land Use Policy is in line for redress, after being highlighted by a parliamentary commission charged with targeting legislation for reform. In its current form, the policy only covers farmland – something the Commission for the Assessment of Legal Affairs and Special Issues ...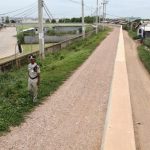 SET-listed Rojana Industrial Park Plc (ROJNA) expects flat sales of land next year as the weak economic outlook persists and curbs investment, says independent director Amara Charoengitwattanagun. She said land sales in 2017 will remain at 400-500 rai, below the target of 500-600 rai announced ...
Kayin State villagers are losing their land and are routinely persecuted through threats, arson and arbitrary arrest if they attempt to fight the unlawful seizures, according to a report released by an international rights group on November 3. Around 70 percent of the people in ...

Contact us
Thank you for taking the time to get in contact!