Environmentalists have urged Laos not to proceed with the construction of another "destructive" dam on the Mekong River, a vital Southeast Asian waterway that sustains about 60 million people. Last week, Laos' communist government announced plans for the Sanakham dam – close to the northeastern border ...
 Nicola Smith

Cambodia has been accused of 'killing off democracy' after the country's supreme court dissolved the opposition party and outlawed over 100 politicians ahead of a general election next year. Thursday's ruling to disband the Cambodia National Rescue Party, in a Southeast Asian country visited by about 159,000 ...
 Nicola Smith & Louise Burke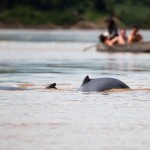 The fate of the last surviving Irrawaddy river dolphins on the Laos-Cambodian border hangs in the balance after a Laos government official was reported as saying this week that construction of the dam would begin by the end of the year.Keep reading ...