Setting fire to forest and agricultural land in Southeast Asia to prepare it for cultivation or grazing contributes to an estimated 59,000 premature deaths a year, say scientists. Their analysis reveals that the greatest health impact from the burning, which releases tiny particles into the air ...
 University of Leeds

Thailand's northern province of Chiang Mai was ranked as the third most city in the world with the worst air quality index on Wednesday, with an average PM2.5 dust level higher than 200. Chiang Mai province is once again battling with a critical air quality levels due ...
 CTN News

Prime Minister Nguyễn Xuân Phúc has asked ministries and People's Committees of centrally-run cities and provinces to step up the implementation of programmes and tasks to improve air quality control. The move aims to intensify the control of air pollution, ease its impact on people's health and ...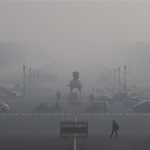 Nine out of 10 people globally live in places with poor air quality, the World Health Organization has said, blaming a worldwide air pollution crisis for being a major factor in millions of deaths per year. In a new report released on September 27, the health agency ...