Around 350 representatives of states, international organisations and the private sector from the Greater Mekong Sub-region, Asia Pacific and the UN World Tourism Organisation are currently attending a tourism forum in Luang Prabang province. The Mekong Tourism Forum was officially opened on June 7 by the ...
In anticipation of 2018 being a Visit Laos Year, the Minister of Information, Culture and Tourism Prof. Dr Bosengkham Vongdara has called on all tourism agencies to urgently prepare activities for inclusion in the programme. Prof. Dr Bosengkham made the call at this week meeting on ...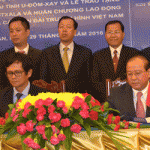 Vietnam Television has provided new radio and television transmission stations for Xay district, Oudomxay province, which will become operational today following a handover ceremony in Vientiane on November 29.​ A document to hand over the two stations was signed by Laos' Minister of Information, Culture ...

Contact us
Thank you for taking the time to get in contact!