The secretive trade of coastal sand to wealthy countries such as China is seriously damaging the wildlife of poorer nations whose resources are being plundered, according to a new study. Sand and gravel are the most extracted groups of materials worldwide after water, with sand used in ...
The Republic stopped importing sand from Cambodia after a ban took effect in November last year, said the Ministry of National Development as the issue of sand imports once again takes the spotlight. Responding to media queries, the MND also stressed that Singapore sets strict criteria ...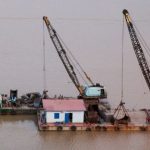 Singaporean customs data on sand imports from Cambodia show near identical figures to those recorded by the UN, which last month were dismissed by a top official amid a reporting discrepancy in the hundreds of millions of dollars. The UN data showed $752 million in imports ...

Contact us
Thank you for taking the time to get in contact!