Australian financial institution ANZ has distanced itself from the Royal Group, its local partner in a Cambodian joint venture bank, following police reports linking the group to illegal logging activities. A report published by Cambodia's National Police this week accused Royal Group, owned by prominent ...
The Koh Kong Special Economic Zone located just two kilometers from Thailand's Trat province provides jobs to around 9,000 workers. Thitidej Tongpatana, a Thai national who is vice president of Koh Kong SEZ, recently spoke to Khmer Times' Chea Vannak on the special economic zone's ...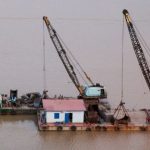 Singaporean customs data on sand imports from Cambodia show near identical figures to those recorded by the UN, which last month were dismissed by a top official amid a reporting discrepancy in the hundreds of millions of dollars. The UN data showed $752 million in imports ...

Contact us
Thank you for taking the time to get in contact!