Aquaculture farmers directly affected by natural disasters and epidemics will receive compensation totalling as much as US$2,600 per hectare, according to Decree No 2 issued by the Government last week. The decree, to take effect from February 25, will regulate compensation forms and levels to help farmers ...
Dried fields, cattle dying of thirst, expensive drinking water, sea water overflowing houses. In 2016, the lives of millions of people in Mekong Delta, Central Highlands and central region were upset because of drought and salinity intrusion. In the first months of 2016, when the north ...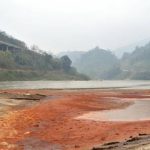 Lao Cai province's chair Dang Xuan Phong said the Red River's water from the other side of the border with China is becoming more seriously polluted. Phong made the complaint at a national online conference on environmental protection chaired by Prime Minister Nguyen Xuan Phuc on ...

Contact us
Thank you for taking the time to get in contact!