The National Bank of Cambodia (NBC) has announced it is preparing to launch a central bank digital currency (CBDC). NBC's director-general, Chea Serey, said the central bank was developing "the national payment gateway for Cambodia." It would serve as a blockchain-based, peer-to-peer platform with its own specially designed cryptocurrency. According ...
 Daniel Abel

Proper investigation has been ordered into enterprises whose operations violate regulations and laws, notably those raising funds illegally from individuals for business operations, the government spokesman has said. The instruction was made at the government monthly meeting for March, which took place last week in ...
The Ministry of Commerce is working with the Central Bank to crack down on unreported export earnings, according to Union minister U Than Myint. The government has adopted a multi-pronged strategy to try to counter the volatile US dollar-kyat exchange rate, which has prompted widespread complaint ...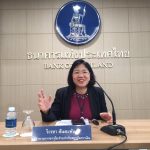 The bank of Thailand will open the way for financial-technology product experimentation under its regulatory "sandbox" in the first quarter of next year, in the hope that fintech developers applying to participate can receive licences quickly once they decide to commercialise their products or services. ...