A farmer in Preah Vihear province was seriously injured on Saturday when he stepped on an old landmine as he attempted to cross the border into Thailand to go logging rosewood.​ Police said the incident happened at about 10am in Choam Khsan district. The victim was ...
A team of divers from the Cambodian Mine Action Center has recovered two large bombs dropped from US planes into Tonle Sap lake in Kampong Chhnang province. Heng Ratana, the director-general of the center, said the two 500-pound US-made MK82 aircraft bombs were found by his ...
The Japanese government has approved funding for three projects that will cover mine clearance, agriculture and health services. The approval was made on March 1 at the Japanese embassy in Phnom Penh. Signed by Ambassador Hidehisa Horinouchi, the grant amounts to $1,389,888 and will be allocated ...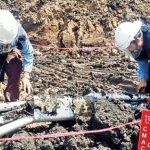 A top Cambodian demining official slammed US President Barack Obama's widely heralded pledge to increase demining aid to Laos on September 6, faulting the US for what he characterised as its "marginal assistance" to Cambodia's demining efforts. In a speech at the 2016 ASEAN Summit in ...