Taing Phoeuk, the Khmer-American director of Korsang, glumly brushed the ash from his cigarette on a restaurant balcony overlooking Sihanouk Boulevard. "It's going to kill us," he said, contemplating the prospect of his organisation's demise as its USAID funding evaporates. Founded in 2004 by American ...
Despite the Foreign Ministry reiterating its request to suspend and renegotiate its repatriation agreement with the US – which allows for the deportation of Cambodians with criminal convictions living in the States back to the Kingdom – the timetable for such a plan remains uncertain. ...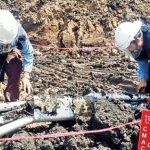 A top Cambodian demining official slammed US President Barack Obama's widely heralded pledge to increase demining aid to Laos on September 6, faulting the US for what he characterised as its "marginal assistance" to Cambodia's demining efforts. In a speech at the 2016 ASEAN Summit in ...

Contact us
Thank you for taking the time to get in contact!