The United States embassy in Cambodia said on Wednesday it had stopped issuing some types of visas to Cambodians because Cambodia is not taking back citizens the United States wants to deport. Keep reading ...
 Prak Chan Thul

Washington's ambassador to Cambodia on Tuesday rejected government accusations of interference by the United States as "inaccurate, misleading and baseless" and called for the release of detained opposition leader Kem Sokha. Keep reading ...
 Prak Chan Thul

Cambodia could expand its foreign trade by up to 16 percent, adding approximately $2 billion worth of exports, by complying with a new international trade protocol that aims to slice through the red tape that slows and complicates cross-border trade. US Ambassador William Heidt said ...
A team of divers from the Cambodian Mine Action Center has recovered two large bombs dropped from US planes into Tonle Sap lake in Kampong Chhnang province. Heng Ratana, the director-general of the center, said the two 500-pound US-made MK82 aircraft bombs were found by his ...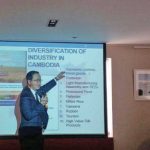 A roadshow to Hong Kong this week to pitch Cambodia's newly received duty-free access on travel goods to the US market was successful, but manufacturers have yet to sign concrete deals to establish new production lines here, a delegate of the returning business mission said. US ...

Contact us
Thank you for taking the time to get in contact!