Phạm Trọng Thực, deputy director general of the Industrial Safety Technique and Environmental Agency under the Ministry of Industry and Trade, talks to Công Thương (Trade and Commerce) newspaper on the national plan to develop coal-fired power plants What is the current state of Vietnamese coal power ...
The Federation of Thai Industries has agreed with the plan to develop a coal-fired power plant in Krabi, saying the delay or cancellation of the project would lead to insufficient power supply that could cut the gross regional product in the South by at least 1%. Energy ...
Village leaders in Sumberejo, East Java, once had plans to entice travelers to their coastal town. Tourist facilities were planned for Ndaki Beach where the waves of the Indian Ocean crash upon this Indonesian island. Nearby Bawur Beach was also seen as having tourism potential. ...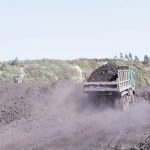 A coal-fired power plant in southern Shan State that was shut down two years ago due to residents' complaints may be reopening, despite the opposition of the local community, villagers say. They are already accusing local officials of breaking their promises. Test operations at the plant, ...