The diversity and quality of jobs available in Cambodia is improving, yet new policies are needed for the country to benefit from the opportunities available in future global markets, according to a World Bank report released on Tuesday. Titled Cambodia's Future Jobs: Linking to the Economy ...
 Shi Yinglun

The youth of the ASEAN are highly optimistic about the impacts of technology on their job prospects and incomes, according to a survey from the World Economic Forum. Keep reading ...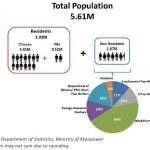 Even as more Singaporeans had babies last year, Singapore's population growth remained low, rising 1.3 per cent to reach 5.61 million in June. The statistics, released on September 27 by the National Population and Talent Division in its annual Population in Brief report, also showed that ...

Contact us
Thank you for taking the time to get in contact!