Cambodia and Singapore have appreciated their strong relations and good bilateral cooperation in all sectors. The appreciation was made in a farewell meeting here in Phnom Penh yesterday between Pan Sorasak, Minister of Commerce and outgoing Ambassador of Singapore Michael Tan Keng Siong. Sorasak underlined that Cambodia ...
 Lim Nary – AKP

Myanmar leader Aung San Suu Kyi will not attend this weekend's Asean Summit in Singapore, a government spokesman said on Monday, which would make it the first time for her to skip one since coming to power in 2016. []The 10-member Asean comprises Brunei, Cambodia, Indonesia, ...
 Bangkok Post Reporter

Myanmar's Ministry of Labour, Immigration and Population officials were scheduled to meet their Singaporean counterparts this week to discuss issues facing domestic workers in the island state, a senior official said.Keep reading ...
Myanmar Offshore Supply Base (MOSB), a Singapore company, on July 11 received the green light from the Myanmar Investment Commission (MIC) to construct an oil and gas supply base in Mon State. It will be the first foreign-run oil and gas supply base in Myanmar. ...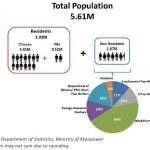 Even as more Singaporeans had babies last year, Singapore's population growth remained low, rising 1.3 per cent to reach 5.61 million in June. The statistics, released on September 27 by the National Population and Talent Division in its annual Population in Brief report, also showed that ...

Contact us
Thank you for taking the time to get in contact!